General
---
Who is responsible for Emergency Response in Houston?
Authority for managing emergencies in the City of Houston is vested in the Mayor by State law.  The Mayor appoints directors for emergency response agencies, including the Houston Fire and Police Departments, and is responsible for naming an Emergency Management Coordinator, who oversees the Office of Emergency Management (OEM).
OEM works to support City departments in times of emergency, maitnains communication channels, the City's Emergency Operations Center, and is responsible for developing plans, training and exercises for City departments.
The way the City responds to emergencies is outlined in the City of Houston Emergency Management Plan, which assigns various responsibilities to departments.
---
How do I prepare for emergencies?
Emergencies can happen at any time.  They can be caused by natural, technological, or man-made issues.  The City of Houston follows a national model for advancing emergency preparedness within our community.  This includes: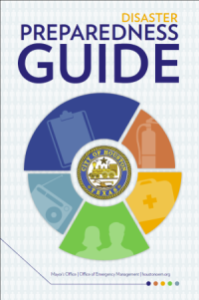 Make an Emergency Plan – Know what to do no matter what happens.
Put Together an Emergency Kit – Make sure you have enough supplies for 5-7 days.
Be Informed About Emergencies – Have ways to stay informed in disasters.  This includes signing up for AlertHouston, bookmarking houstontx.gov/emergency, having a battery-powered or hand-crank radio, and knowing where to go to get official information.
Know Your Neighbors – Houston's strength comes from its diverse community.  When disasters strike, you should work together with those in your community to prepare, and respond to emergencies. Know your neighbors ahead of time, and include them in your family's planning process.
Call  311 (713-837-0311) or visit houstonoem.org to download a copy of the City of Houston Disaster Preparedness Guide for more information.
---
State of Texas Emergency Assistance Registry (STEAR)
The State of Texas Emergency Assistance Registry (STEAR) provides emergency response agencies with information for some residents who may need extra assistance in a disaster. Residents with disabilities, or who may need extra help in an emergency should register with STEAR.  Call 2-1-1  or visit texasstear.org.
Do I have to fill one STEAR form out for each individual?
Yes, each individual who needs assistance in evacuating must fill out a form. This allows emergency personnel to ensure transportation is provided for each person in your household.
Please note that only the individual needing assistance has to register. Family members and caretakers who may be accompanying the individual in an evacuation will be able to ride along with them without registering.
Facilities such as nursing homes, assisted living or other group homes should fill out a "facility form" instead of an individual form for each resident.
I've been ordered to evacuate, but no one has contacted me. What should I do?
If you have been ordered to evacuate your area and are registered for the STEAR but no one has contacted you regarding transportation, contact the Metropolitan Transit Authority of Greater Harris County (METRO) at 713-225-0119 or 311 (713.837-0311)
Can a STEAR form be filled out for someone else?
.If an individual you know may need assistance, with their permission, you may fill out the online form, call 2-1-1 for them. Some information needed for the form is fairly detailed, and will require input from the individual being registered or their caretaker.
How long does the City of Houston keep this information on file? What if I move?
The information you fill out on the STEAR is kept until March of the following year. At that time, you will be encouraged to renew your registration by either filling out another form online, to call 2-1-1 or by mailing in a new downloadable form. This helps make sure that the information in the STEAR database is the most current.
What happens once I submit by form?
Once your form is completed and submitted, it is entered into a database that is then available for emergency service providers to get in contact with you in the event that an emergency affects your area. Emergency agencies throughout Texas are responsible for maintaining access to the list, and ensuring it's used properly
I don't live in a hurricane evacuation area, do I still need to register?
Hurricanes are not the only hazard that could impact Houston. If you live outside of an evacuation area, you may still register for evacuation assistance in the event that another type of hazard, such as a hazardous chemical release, or a flood impacts your community.
Does registration with STEAR guarantee that I will be evacuated in a hurricane?
Registration with STEAR only provides the City with information on where individuals who register live, in order to facilitate the evacuation of those living in mandatory evacuation areas. Not all Houston residents will live within mandatory evacuation areas. Visit the Hurricane Evacuation page see if you live in a mandatory evacuation area. All residents should make plans to evacuate during a hurricane if they feel they would not be able to sustain their basic needs in their homes during and after the hurricane's impact.