Weather Information
The National Weather Service has issued a Flash Flood Watch for Houston until 10 p.m. Wednesday. This means conditions are favorable for flooding to occur.
Since midnight, the majority of the City has received around 1 inch of rainfall with some isolated amounts approaching 2 inches in the northeastern areas of the City.  None of our bayous, streams and waterways are in danger of coming out of their banks at this time.
Forecast model guidance indicates that the focus for heavy rainfall this afternoon will be along the coastline south of the City. OEM is closely monitoring the changing weather conditions and will provide updates as warranted. 
The mayor instructed public safety employees in the Office of Emergency Management, Houston Fire, Houston Police, and Public Works to prepare high water rescue assets and street barricades to respond to reports of flash flooding. All of our high water rescue assets are prepared to respond to reports of flooding should it occur.
Residents are encouraged to register for AlertHouston at www.alerthouston.org and monitor its emergency response site, www.houstonemergency.org for updates.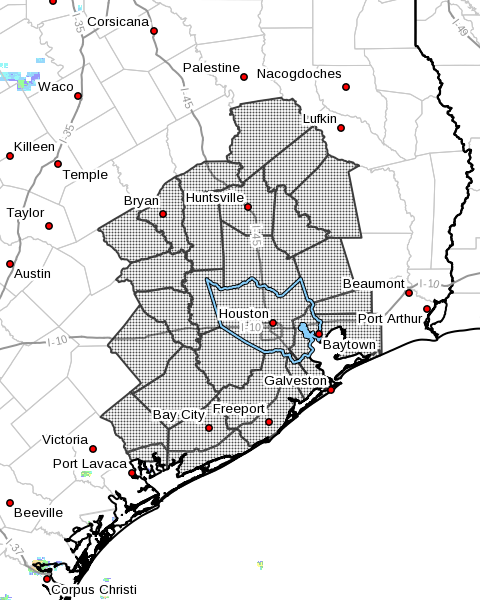 Protective Actions
Be Prepared. People should bring their pets inside and delay travel or outdoor activities during periods of heavy rainfall. If travel is unavoidable, reduce your speed to avoid hydroplaning.
If a Flash Flood Warning is issued for your area, DO NOT travel.
Turn Around, Don't Drown®: Do not drive through flooded areas. If you see water covering the road, do not attempt to cross it. Only a few inches of water can float a vehicle. If you find yourself in a dangerous situation where your vehicle is taking on water, get out of the vehicle, get to a higher position, and call 911.
Monitor Official Sources for Current Information: Harris County Flood Warning System (harriscountyfws.org), Houston TranStar (houstontranstar.org), and the National Weather Service Houston/Galveston Forecast Office (weather.gov/hgx).
Monitor Stream, Bayou, and Creek Conditions: Rain may move repeatedly across the same area, causing creeks and bayous to rise and possibly exceed their banks. Stay informed of current conditions and avoid traveling near creeks and bayous.
Avoid Traveling during Periods of Heavy Rain: Rain can reduce visibility and prevent you from seeing the road ahead, which could lead to accidents.
Houston Fire Department Updates:
The Houston Fire Department activated its new Water Strike Team for the first time ahead of this week's heavy rainfall.  Members of this team have advanced life-saving training in swift water rescue. Mayor Sylvester Turner and City Council approved nearly $2 million for flood response equipment and funds for additional training in swift water rescue.
The Water Strike Team will staff four (4) High Water Vehicles in each quadrant of the City and will conduct community and drone flooding assessments. These include HWV's 05, 21, 58 and 45. 
HFD's  remaining five (5) HWV's will be staffed by on-duty personnel and deployed as needed. A total of nine (9)HWV's will be available for this weather event.  In addition to the above resources,  HFD will have the following assets available:
20 Evacuation Boats
11 Rescue Boats
3 Achilles Boats
9 Wave Runners
25 Prime Movers (4X4 with lift kits to haul trailers)
2 Drones
HFD's drones will be used for mapping as well as search and rescue. They will allow for better situational awareness with real-time streaming to multiple devices. HFD is also placing two rescue swimmers on HPD's Bell 412 helicopter.
Houston Public Works Updates:
Earlier this week, City of Houston personnel cleared storm drains and ditches, but property owners should ensure that street drains and ditches are on their residential streets are clear of trash, so storm water can flow without obstructions. Blockages of drains, ditches and culverts are the most frequent cause of flooding in neighborhoods.
Secure items that might float away in heavy rain and become lodged in drains or culverts.
Lake Houston was lowered for a total of 1 foot after Memorial Day weekend to allow contractors to begin a rehabilitation project on the dam. The contractors are securing the work site for the impending rain.